Fine art photography
Corporate clients often approach me for fine art photography for their offices. I was recently commissioned to provide images for CNA Hardy, the specialist commercial insurance provider. CNA Hardy have their European headquarters at 20 Fenchurch Street ('the Walkie Talkie'). The CNA team wanted art for their walls at very large scale. They had seen my London cityscape series and knew they would get pin-sharp reproduction even at extremely large sizes. I worked with the CNA Hardy team to find the right fine art photography pieces for their space. Their business is international, so in addition to London cityscapes, they also wanted pieces from the USA and China. The pieces are all edge-to-edge dibond mounted behind thick acrylic pane. You can read about each piece below and see them in situ on the walls.
Silvered City – A London Cityscape
Firstly, CNA Hardy selected this piece because it featured their European Head Office at 20 Fenchurch Street. We were able to further highlight their building by producing the piece as a diptych. The width was about a metre high by 2.5 metres long. You can see how this looked in their reception area below. If you would like to view the image in a larger size and zoom in, please click here (opens in a new tab).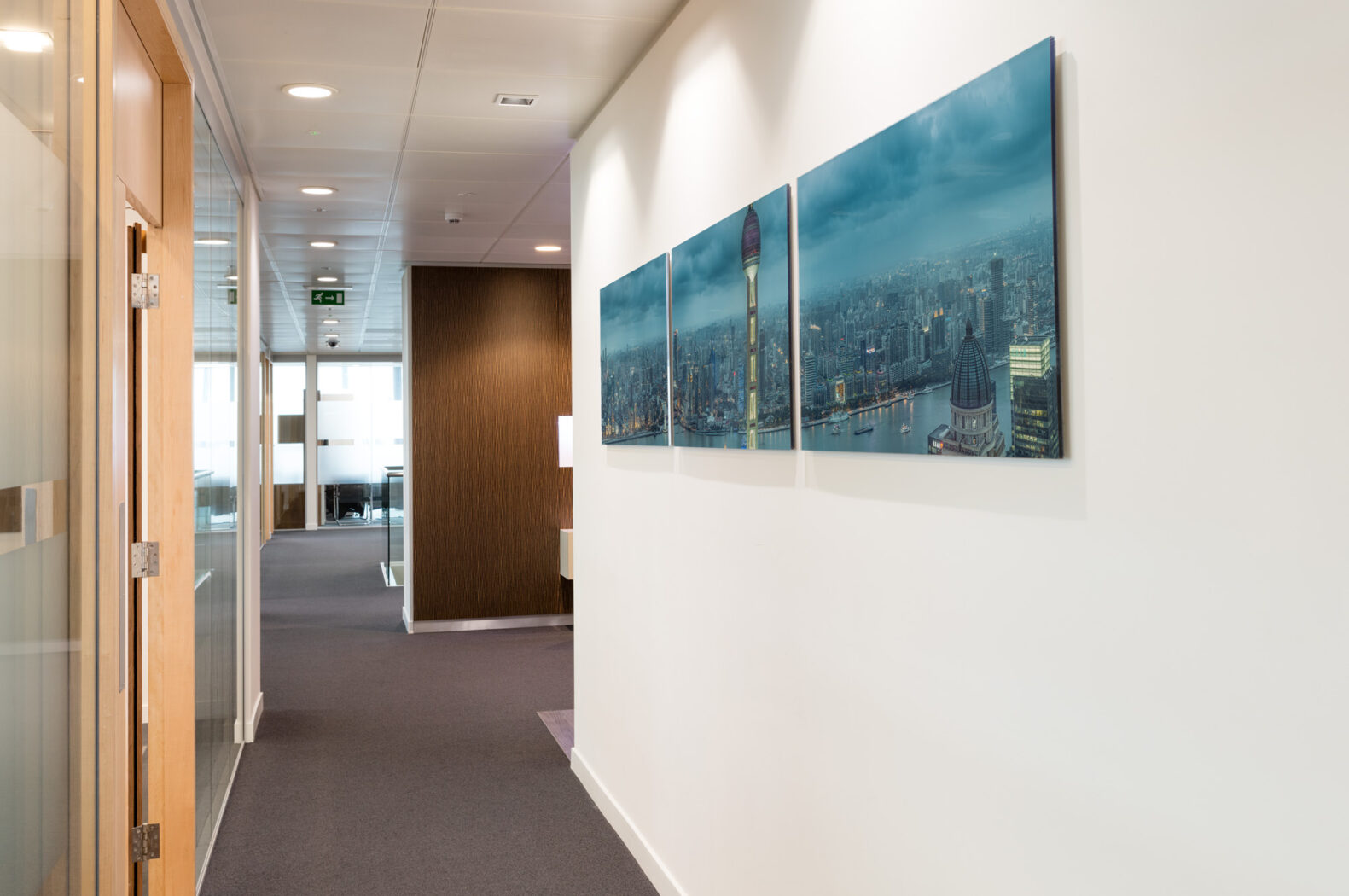 Pudong View, Shanghai – China Panorama
CNA Hardy wanted the art on their walls to reflect their global nature. Thus, they selected this view across the Huangpu River to Pudong, with the dramatic Oriental Pearl Tower in the foreground. We determined that this image would be presented as a triptych. Each panel was almost 1.2m wide, so the total width was about 3.5 metres (over 11 foot) wide. You can view the China triptych in situ on CNA Hardy's walls below. Click here (opens in a new tab) to see the original deep zoom Shanghai panorama.

Chicago from Lake Michigan – Panoramic Triptych
Because CNA Worldwide headquarters are in Chicago, the CNA team was particularly taken with this image. Especially relevant is the fact that it features their own building prominently. The CNA Center at 333 South Wabash Avenue has been their home for the last 44 years. It is fondly known as 'Big Red' due to its unusual red exterior. We decided to present the panorama as a triptych, with each panel around 1.6m wide – 4.8m in total (over 15 foot wide). Click here (opens in a new tab) to see the full image and zoom in on the detail.

Palace of Westminster – London Photography
In addition, the client selected a view of the Palace of Westminster on a particularly stormy summer day. The dramatic skies lent a colour to the image which complemented the area in which it's sited. Click here (opens in a new tab) to see the original image in high resolution.
Please get in touch with me should you want to discuss a fine art photography commission, or are interested in images from my portfolio or photography library. Click here (opens in a new tab) to be taken to my stock library site.
Save
Save
Save
Save
Save
Save
Save
Save
Save
Save